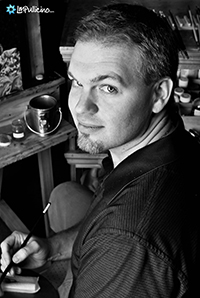 Hi, I'm Douglas Flynt. I'm an artist who specializes in oil painting. I am mainly known for my realistically painted still-life work, but I also paint people, interiors, and even the occasional landscape. I sell my work both in galleries and directly to collectors. I strive to create aesthetically beautiful paintings by working out precise compositions, painting sculpturally convincing subjects, and employing a careful understanding about how light affects our perception of color.
In addition to creating paintings, I also spend some of my time as an instructor. I teach other artists to improve their own skills—sharing information I have picked up during my studies and as a professionally practicing artist.
Along my journey to develop my skills and knowledge, I acquired a BA in History and Criticism of Art and a BFA—both from Florida State University. I also completed an MFA at the New York Academy of Art. While there I was able to study with individuals such as Steven Assael, Jon DeMartin, Sabin Howard, and Dan Thompson. In addition to those degrees, I was very fortunate to study with other great artists. Early on I learned from Edward Jonas, the current Chair of the Portrait Society of America. Later I studied at length with Jacob Collins and Michael Grimaldi at the Waterstreet Atelier. I also enhanced my knowledge by taking a workshop with Anthony Ryder.
Currently I reside in sunny Southwest Florida with my wife and 2 daughters.
I hope you will enjoy taking a look around my website. If you are interested in acquiring one of my paintings, doing some study with me, or connecting in any way, please visit my contact page by clicking on the button below.  Thanks!